LG 24QP750-B is a 23.8 inch display packing WQHD resolution. Price is estimated to be around 350 dollars. WQHD means it offers 1.8x the amount of pixels than a standard full HD 1920×1080 pixel resolution.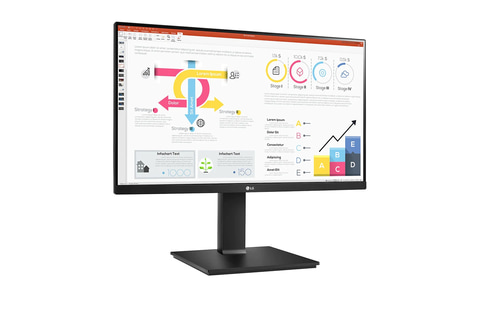 LG 24QP750-B comes with ergonomic stand, height adjustment of 130 mm, swivel of 355 degrees, tilt of 35 degrees up / 5 degrees down, pivot of 90 degrees left and right is possible.
It comes equipped with USB Type C and this can be used to supply 65W along with video transfer. In addition, it has functions to reduce the strain on the eyes such as "blue light reduction mode" and "flicker safe", and functions for games such as "AMD FreeSync", "DAS mode", and "black stabilizer".
Other LG 24QP750-B specifications are IPS panel, sRGB 99% color gamut, display color number of about 16.77 million colors, neutral color response speed 5 ms, brightness 300 cd / square m, contrast ratio 1,000: 1, viewing angle up and down. / 178 degrees on both sides.
23.8 inch WQHD (2560 x 1440)
DisplayPort daisy chain (DisplayPort output)
USB Type-C ™
130mm height adjustment, 355 ° swivel, front: -5 ° to rear: 35 ° tilt, left and right 90 ° pivot
HDR10 / sRGB 99%
There are three interfaces: USB Type-C, HDMI, and DisplayPort. It also has a headphone output and a 2-port USB 3.0 Hub. The main body size is 540 x 240 x 376 to 506 mm (width x depth x height), and the weight is 5.5 kg.