Dosapara Galleria XA7R-67XT is a gaming PC that comes equipped with AMD Radeon RX 6700XT and Ryzen 7 processor. Price tag is 1740 dollars when converted to USD.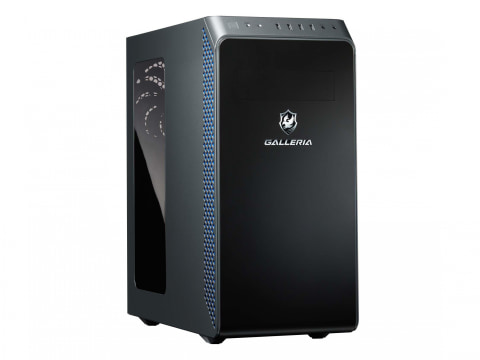 AMD Ryzen 7 3700X is used in Dosapara Galleria XA7R-67XT which gets you eight cores and 16 threads to work with. It runs between 3.6-4.4GHz and is backed by 16GB of memory, 512GB of SSD, 80PLUS Gold silent power supply (750W), and Windows 10 Home.
Interface selection includes USB 3.0 x 10, Gigabit Ethernet, 14cm fans on front and back. Body size of Dosapara Galleria XA7R-67XT measures 220 x 440 x 480 mm (width x depth x height), and the weight is about 14 kg.
In PC Mark 10 test, Dosapara Galleria XA7R-67XT scored 6787 as its overall score. Here are its detailed specifications:
OS Windows 10 Home 64-bit (disk included)
Office software
Without Office
Steam
Installing the Steam client
CPU
AMD Ryzen 7 3700X (3.6GHz-4.4GHz / 8 cores / 16 threads)
CPU grease
Normal grease
Graphic function
AMD Radeon RX 6700 XT 12GB GDDR6 (HDMI x1, DisplayPort x3)
power supply
750W silent power supply (80PLUS GOLD)
memory
16GB DDR4 SDRAM (PC4-25600 / 8GBx2 / 2 channels)
SSD
Intel 512GB NVMe SSD (660p series, M.2, read speed 1500MB / s, write speed 1000MB / s, QLC)
Hard disk / SSD
No HDD
optical drive
No optical drive (* Can be customized)
sound
Motherboard standard onboard HD sound
Case
Galleria exclusive SK case (ATX) Standard (gun metallic)
Front case fan
14cm Quiet FAN
Rear case fan
14cm Quiet FAN
Top case fan rear
14cm Quiet FAN (approx. 900rpm)
LAN
Gigabit LAN port x1 (motherboard onboard)
Motherboard
ASRock B550 TW (AMD B550 Chipset ATX Motherboard)
PCI-E x16 Gen4.0 x1, PCI-E x4 x1, PCI-E x1 x2 / Memory Slot x4 (Max 128GB) /SATA3 x6 / M.2 Key-M x2 (Gen4x4 x1, Gen3x2 x1) /M.2 Key-E x1
M.2_3 socket and SATA3_5 / 6 port are for exclusive use and cannot be used at the same time.
I / O port
Front: USB 3.2 Gen1 Type-A x4 Back: USB3.1 Gen1 (Type-A) x6
Standard keyboard
No keyboard
Standard mouse
Without mouse
size
220 (width) x 440 (depth) x 480 (height) mm
weight
About 14kg
Carry-on repair warranty
Warranty period 1 year