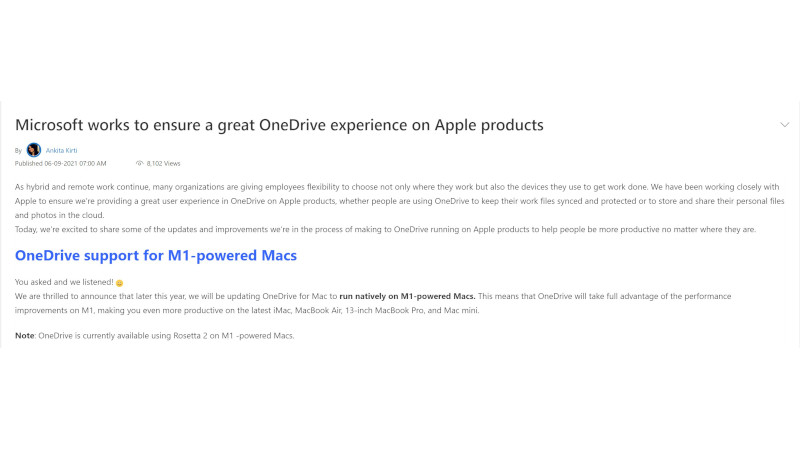 Microsoft USA has announced that it will be bringing significant update to Apple M1 SoC based Apple computers in latter half of 2021, that is Q4 2021. 
This includes the just released Macbook Air, Macbook Pro, Mac mini and iMac series of computers.
Right now, OneDrive runs flawlessly on Apple M1 chip but on Rosetta 2 simulation, but it will be as fast as native Apple M1 applications once it is specifically compiled for newer chipset.
Last December, Microsoft pushed out an update to make its Office 365 natively supported on M1 chips and honestly, it is surprisingly to see Microsoft taking so much time to create a native ARM app of OneDrive for better OneDrive experience on Apple products.
However, there is another way to get better one drive experience – using Safari or Chrome web browser to access one drive's portal. Both of these web browsers are tweaked for Apple M1 chipset and run OneDrive much faster than the simulated Rosetta version – not to mention TouchID support on Safari for faster and secure login on all Microsoft products.
So, what do you think of this move by Microsoft? Are not they taking way too much time for their OneDrive app? I mean, Office 365 tweaked version was out within two months of M1 release.