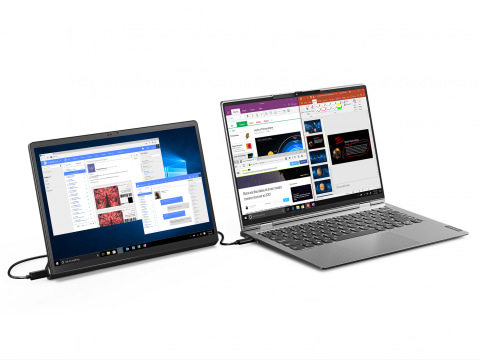 Lenovo Yoga Tab 13 is an android tablet that doubles as display monitor for your computer running windows. This 13-inch Lenovo tablet sports a large screen and built in kickstand which makes sense since its users will also be using it as a display.
In addition to supporting the optional stylus pen, Lenovo Yoga Tab 13 can also be used as a PC display. Multiple models of 11-inch / 8-inch / 7-inch will be available and will be released sequentially from June.
Lenovo Yoga Tab 13 specifications include Octa-core Qualcomm Snapdragon 870 (up to 3.2 GHz), 13-inch, 2160 x 1350 pixel resolution display, choice of 128GB or 256GB storage, 8GB RAM and upto 12 hour battery life. It is not as bright as its rivals but at 400 nits, it should be more than enough while being used indoors.
Prices start at 679 dollars which might seem a lot for android tablet but remember, you are also getting a super high resolution display packing 2K resolution.
Lenovo Yoga Tab 13 is also a multimedia powerhouse, packing four JBL audio speakers that support Dolby Atmos. There is soundbar built into the base of Lenovo Yoga Tab 13. And as said earlier, there will full support for Lenovo Precision Pen 2 so you can scribble whatever comes into your mind.