Dynabook co. has churned out Dynabook K0, a 10.1 inch netbook / laptop that weighs just 610 grams and offers stunning 16 hour battery life. This makes Dynabook K0 best laptop for travelers or anyone who is looking for a thin and light laptop for doing basic computing tasks.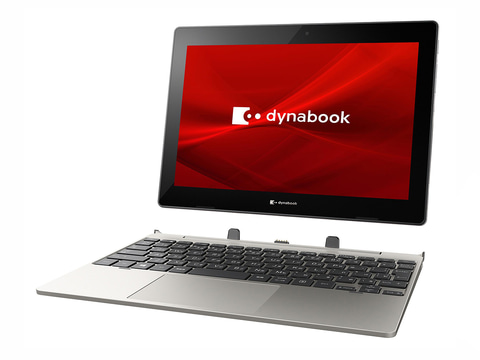 Priced under 500 dollars, Dynabook K0 is powered by Intel Celeron N4020 processor, 4GB RAM and runs Windows 10 Professional OS. For storage, you can for either 64GB or 128GB SSD option.
Dynabook K0 interface selection includes USB 3.0 Type-C, USB 2.0 x 2, Wi-Fi 5, Bluetooth 5.0, about 2 mega pixel front / about 5 mega pixel rear camera, microSD card slot, accelerometer, audio input / output, etc.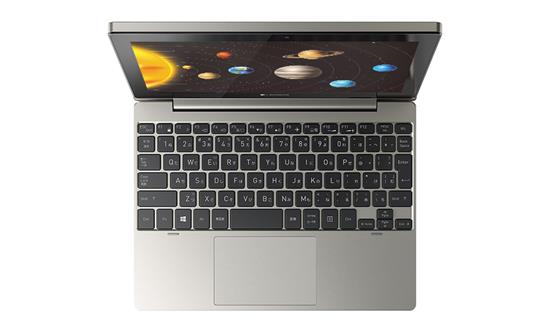 It is available in gold color only. The size when the keyboard is connected is about 249 x 186.7 x 18.7 mm (width x depth x height), and the weight is about 1.18 kg. The weight of the tablet only is about 610g. Battery life is about 16 hours.
Dynabook K0 specifications
Model name / color / model number
K0 (gold) P1K0PPTG
Pre-installed OS (* 1)
Windows 10 Pro 64-bit (* 2)
CPU
Intel ® Celeron ® processor N4020
1.10GHz (burst frequency 2.80GHz)
2 core / 2 thread
Intel ® Smart Cache 4MB
memory
4GB (* 3)
LPDDR4-2400 compatible
0 slot (cannot be replaced or expanded) (* 3)
Display (* 30)
10.1-inch WXGA wide viewing angle TFT color LED LCD with touch panel (power-saving LED backlight) 1,280 x 800 dots (* 4) (* 5) (* 6)
Video RAM
Maximum 2,077MB (shared with main memory) (* 7)
Graphic accelerator (* 8)
Intel ® UHD graphics 600 (built-in CPU)
Body keyboard
84 keys (JIS layout compliant), key pitch: 17mm (* 9) , keystroke: 1.2mm
Touch panel
Capacitive type (multi-touch compatible)
pen
Compatible with active electrostatic coupling method (dedicated rechargeable active electrostatic pen) (sold separately)
pointing device
Click pad with gesture control function (touch pad)
mouse
―
Storage (* 10)
64GB flash memory
C drive capacity (free space) (* 11)
About 61GB (about 29GB)
Wireless LAN (* 12)
IEEE802.11a / b / g / n / ac compliant (WPA ™ / WPA2 ™ compatible, WEP compatible, AES compatible, TKIP compatible) (* 13)
Click here for compatible areas
Bluetooth ® (* 12)
Click here for Bluetooth ® wireless technology Ver5.0 compliant (* 14) (* 15)
compatible areas
Sound function (* 16)
Stereo speaker, monaural microphone
SD card slot
1 slot (microSD)
interface
Tablet: Microphone input / headphone output terminal x 1 (* 17) , USB 3.1 (Gen1) Type-C connector x 1 (* 18)
Keyboard: USB 2.0 Type-A connector x 2 (* 19)
Webcam
Number of effective pixels Front: Approximately 2 million pixels, Back: Approximately 5 million pixels
sensor
Accelerometer
Security function
Intel ® PTT, BIOS password
battery
Lithium polymer (battery pack) (* 20) (* 21)
Driving time (JEITA battery operating time measurement method Ver.2.0)
Approximately 16.0 hours (* 22)
charging time
Approximately 3.0 hours (when the power is off) / Approximately 3.0 to 10.0 hours (when the power is on) (* 23)
AC adapter
AC100V-240V, 50 / 60Hz (* 25)
Standard power consumption (* 26) (maximum)
About 6W (45W)
Energy consumption efficiency based on the Energy Conservation Law (* 27)
10 categories 11.8kWh (86%)Energy saving mark
Environmental condition
Temperature 5 to 35 ° C, humidity 20 to 80% (however, no condensation) (* 28)
Environmental performance rating (* 29)
★★★ V14
External dimensions (excluding protrusions)
[When connected to a keyboard] Approximately 249.0 (width) x 186.7 (depth) x 18.7 (height) mm
Mass (* 24)
[When connected to keyboard] Approx. 1.18 kg [Tablet] Approx. 610 g
Main accessories
AC adapter, power cord, instruction manual (manual), warranty card, etc.
Warranty
Yes (pick-up repair / overseas warranty 1 year)