In the Android tablet world, there are not a lot of real competitors to the Samsung Galaxy Tab series, except for little competition from Huawei. If a 12.6" tablet is too big for you, consider checking out the new Huawei MatePad 11-inch 2023 model that was launched few days back. We were able to spend some time with it and here is our review of it.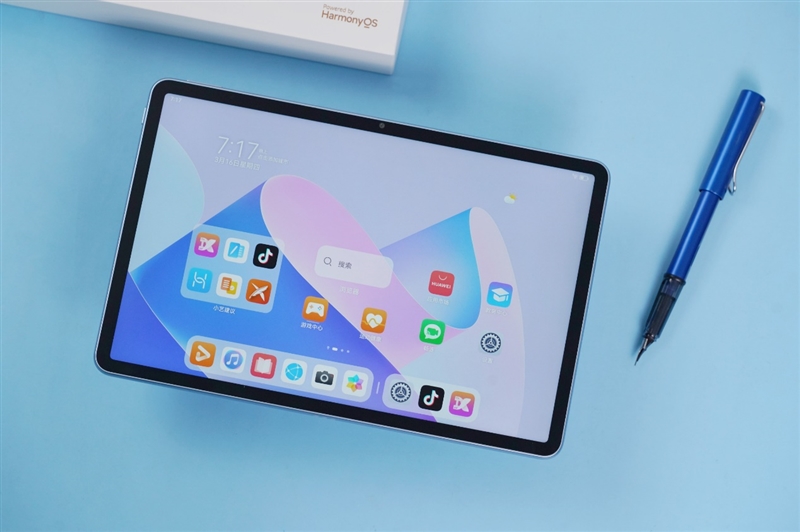 What makes Huawei MatePad 11-inch 2023 different from rest?
It features industry's first TUV Rheinland non-reflective certified flat panel. It also passed the SGS Gold Standard certification for low visual fatigue, TÜV Rheinland's hardware-level low blue light, and TÜV Rheinland's flicker-free certification. In fact, at time of writing of this review, Huawei MatePad 11-inch 2023 is the first tablet computer on the market that can pass so many certifications at the same time.
Specifications
The Huawei MatePad 11-inch 2023 model is equipped with a Qualcomm Snapdragon 870 processor and a storage configuration of 8GB RAM + 128GB storage. The performance is sufficient to meet the use of large-scale games and daily software. In addition, it is also equipped with 4 large-amplitude speakers + Harman Kardon tuning, supports Wi-Fi 6 networks and provides a good experience for daily audio-visual entertainment.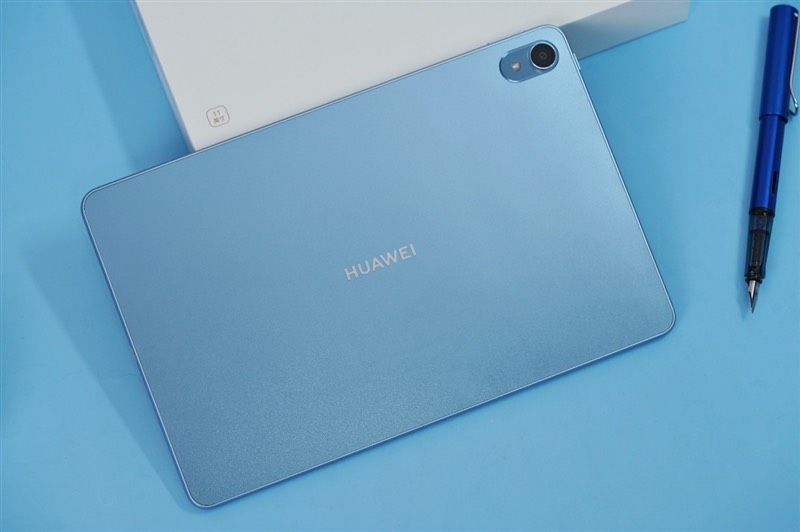 The top and bottom of the tablet are equipped with 4 full-range speakers, equipped with high-power smartPA, the maximum output power reaches 5W, and the loudness can reach 79dB.
Paper-like soft screen – another new patent from Huawei
The paper-like soft screen relies on nano-scale etching technology, and when using the second-generation HUAWEI M-Pencil stylus nylon elastomer nib to write, when the nib touches the screen, the user can feel the texture structure of the screen surface and the friction belt of the stylus Comes with a moderate sense of damping and vibration, and will not slip like other tablets. 
During the writing process, the rustling sound made by the friction between the screen and the pen tip is very close to the real writing experience of pen and paper, which can be said to be the best handwriting experience on Huawei tablets so far.
This 11-inch screen has a resolution of 2560*1600, supports DCI-P3 color gamut and 120Hz high refresh rate, and the overall user experience is a very smooth display. The DCI-P3 color gamut shows better colors when watching movies, pictures and other application scenarios.
What about HarmonyOS 3.1?
The new HarmonyOS 3.1 brings a lot of smart functions, including PC application engine, Huawei notes, smart multi-window, parallel vision, AI subtitle real-time translation, super transfer station, remote PC, multi-device mobile communication sharing, multi-screen collaboration and so on.
Taking the PC application engine as an example, the PC-level WPS running on the Huawei MatePad 11-inch 2023 model is almost the same as the WPS on the PC in terms of user experience. The functions of window stacking, stretching, data, charts, formulas, etc. can achieve.
Benchmark
Well, we are not too much into benchmarks and instead focus on real world performance. The total score of AnTuTu is 609,000, which is the normal level of Snapdragon 870. But the temperature performance is relatively bright. During the test, the maximum temperature of the CPU is only 34.8 degrees.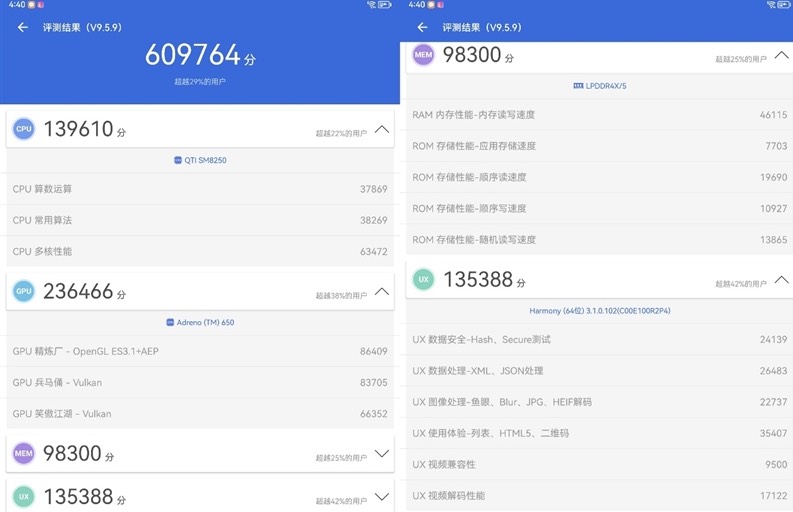 Here are its Geekbench 5 scores – single core: 923 and multi core score: 3032. Clearly, the Snapdragon 870 still packs immense punch for your daily activities and more.
Pair that with a large-capacity battery of 8300mAh, the battery life performance of the Huawei MatePad 11-inch 2023 model is also remarkable. It is measured that in a fully charged state, it can play 1080P high-definition video online for 12 hours.