Tech One has released 8.4-inch gaming UMPC ONEX PLAYER 1S Super Edition. Made by One-Netbook, the ONEXPLAYER 1S will be released on September 11th. The price is 1600 dollars so it is not cheap.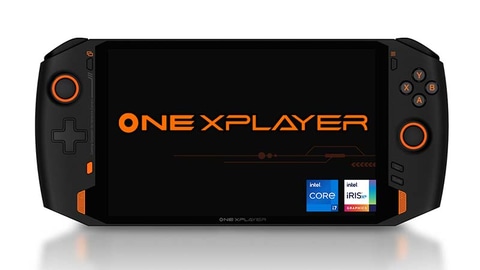 ONEXPLAYER 1S Super Edition is based on the ONEX PLAYER released in July, and the CPU has been upgraded to Intel Core i7-1195G7, which can run up to 5GHz with a single core. This ensures more comfortable gaming sessions.
ONEXPLAYER 1S specifications
ONEXPLAYER 1S comes with memory that is 16GB LPDDR4x, the storage is 1TB M.2 SATA SSD, the display is equipped with 10-point multi-touch compatible 8.4-inch 2,560 x 1,600 pixel IPS liquid crystal, and the OS is Windows 10 Home.
The interface of ONEXPLAYER 1S is equipped with USB 4 x 2, USB 3.0, Wi-Fi 6, Bluetooth 5.0, microSD card slot, fingerprint authentication sensor, voice input / output, etc.
The main body size of ONEXPLAYER 1S measures 288 x 21 x 130 mm width x depth x height, and the weight is 820 grams.
Detailed specifications of ONEXPLAYER 1S
Product name ONEXPLAYER Super Edition Domestic regular version (1TB)
Color Black & orange (matt anti-fingerprint processing)
OS Windows 10 Home (64bit)
Processor 11th Generation Intel® Core ™ i7-1195 G7 Processor
(Up to 5GHz, Intel® Smart Cache 12MB)
Graphics Intel® Iris® Xe Graphics (96EU)
Main memory capacity 16GB dual channel (LPDDR4x 4267MHz)
Storage capacity 1TB M.2 2280 SSD slot (PCI-e, SATA, up to 2TB compatible)
display 8.4 inch, 2560 x 1600 WQXGA IPS LCD (10-point multi-touch compatible) 358 PPI
Input keyboard QWERTY English array magnet keyboard * Exclusive product sold separately
Game controller Not removable PC360 (xinput) ALPS analog stick (L3 / R3 compatible)
Trigger button
XYAB button
speaker Front stereo dual speakers
Wifi Wi-Fi6 (802.11ax), a / b / g / n / ac /, Bluetooth 5.0
interface 2 x USB 4.0 Type-C
1 x USB 3.0 Type-C
1 x microSD card slot
1 x 3.5 mm earphone jack
Biometrics Fingerprint authentication support
cooling method Double heat pipe, dual heat dissipation fan
Battery capacity (lithium polymer) 15,300mAh 3.85V (59Wh)20V / 3.25A charging support * Maximum PD65W charging support
guarantee 1 year (support in Japan)
Obtained technical suitability certification
accessories 1 x AC adapter (5V3A / 9V3A / 12V3A / 15V3A / 20V3.25A)
1 x Manual (warranty)
body size 288mm x 130mm x 21mm
Body weight 820g