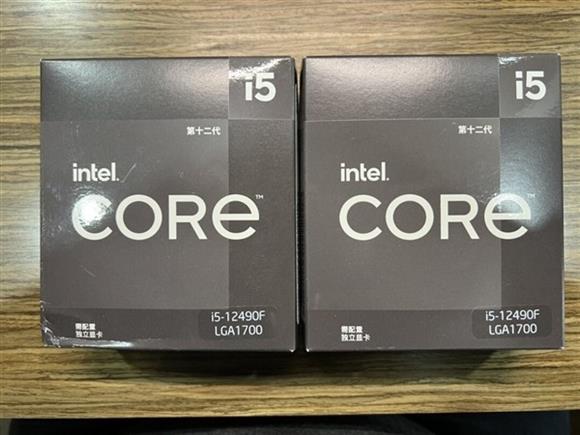 The three 12th generation Intel Core i5 processors, i5-12400, i5-12400F, i5-12490F all use 6 large cores and 12 threads, the memory supports DDR5-4800/DDR4-3200, and during the benchmarks, we found power consumption to be around 65W.
The Intel Core i5-12490F is quite a special unit. It does not have an integrated graphics card, but the frequency is up to 4.6GHz and the power consumption is 65-117W. It can be regarded as an enhanced version of Intel Core i5-12400F with a higher frequency, but that also comes with a higher cost.
Intel Core i5 12400F
Basic parameters
Applicable type desktop
CPU series Core i5 12th generation series
Manufacturing process Intel 7
Core code Alder Lake-S
CPU Architecture Golden Cove
Slot type LGA 1700
Package size 45×37.5mm
Release date Q1'22
Performance parameters
CPU clocked at 2.5GHz
Maximum turbo frequency 4.4GHz
number of cores six cores
Number of threads Twelve threads
L2 cache 7.5MB
L3 cache 18MB
Thermal Design Power (TDP) 65W
memory parameters
Support maximum memory 128GB
Memory Type DDR5 4800MHz, DDR4 3200MHz
Memory description Maximum number of memory channels: 2
Maximum memory bandwidth: 76.8GB/s
technical parameter
Turbo Boost Technology Support, 2.0
Hyper-Threading Technical Support
Virtualization Technology Intel VT-x, VT-d, EPT
Instruction set SSE4.1/4.2, AVX2, 64bit
64-bit processors are
Other Technologies Intel Gaussian and Neural Accelerator: 3.0
Intel Thread Director: Yes
Intel Deep Learning Boost: Yes
Intel Optane Memory Support: Yes
Intel Speed ​​Shift Technology: Yes
idle state: yes
Enhanced Intel SpeedStepTechnology: Yes
Temperature Monitoring Technology: Yes
Intel Volume Management Device (VMD): Yes
Intel AES new instructions: yes
Security key: yes
Intel OS Guardian: Yes
Execute Disable Bit: Yes
Intel Boot Guard: Yes
Mode Based Execution Control (MBE): Yes
Intel Control Flow Enforcement Technology: Yes
These three Intel processors, i5-12400, i5-12400F, i5-12490F were released by Intel at the CES 2022 show.