Many developers are trying to run Windows 10 on the Apple M1 processor, and the experience after running is also good, and the execution efficiency is very high. This is important as bootcamp is not supported on Apple M1 chip and the only way to run Windows on M1 Macbook Air / Pro is using virtualization.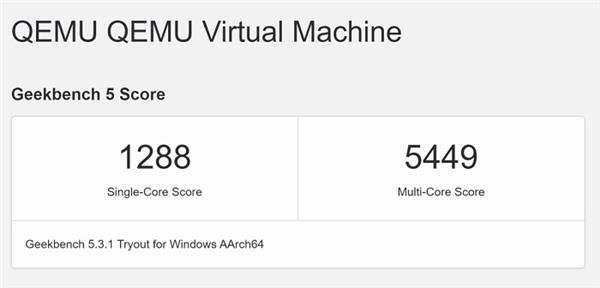 From the results posted by the developers, taking Geekbench 5 as an example, the native single-core/multi-core performance of the Apple M1 device running macOS is 1737/7549 points, while the same device is running in Windows 10 through the QEMU virtualization solution. Its single-core/multi-core performance is 1288/5449 points.
As a comparison, the Surface Pro X 2 platform based on Qualcomm's Snapdragon SQ2 chipset has Windows on ARM scores of 799/3089 for single-core and multi-core respectively.
This means that Macbook Air M1 runs Windows 10 faster than Surface Pro X with Snapdragon SQ2 which is mind blowing.
Craig Federighi, the former head of software engineering at Apple, said in an interview with the media a few days ago that the current M1 Mac does not support Windows, nor does it have the same Boot Camp function as on the Intel Mac, but many people are looking forward to the M1 Mac supporting the Windows operating system.