StyleTap today officially confirmed that they plan to bring a version of its StyleTap CrossPlatform environment to the iPhone and the iPod touch platform. The move will essentially bring thousands of Palm OS apps over to the new iPhone platform.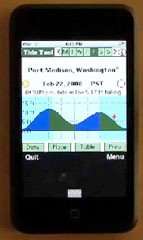 Back in February StyleTap released a video demo of the StyleTap running Palm OS apps on a iPod Touch. The company says they have been overwhelmed by the level of interest and the video has been viewed over 800,000 times.
"The iPhone is one of the hottest new mobile devices out there," said Gregory Sokoloff, CEO of StyleTap Inc., "And the response to our video has convinced us that many, many consumers, and companies, will eagerly jump at the change to buy iPhone devices if they can continue to run their must-have applications."
According to the company technically, StyleTap CrossPlatform is an excellent fit with the iPhone, as the powerful processor and large screen allows applications written for Palm OS devices to run at full speed and at full screen resolution. The iPhone touch screen technology works in a very natural way with mobile applications originally designed for touch screen devices.
Earlier, it supported just windows mobile professional devices. Symbian is too under testing. And now, Styletap supports iphone and ipod touch. Great!