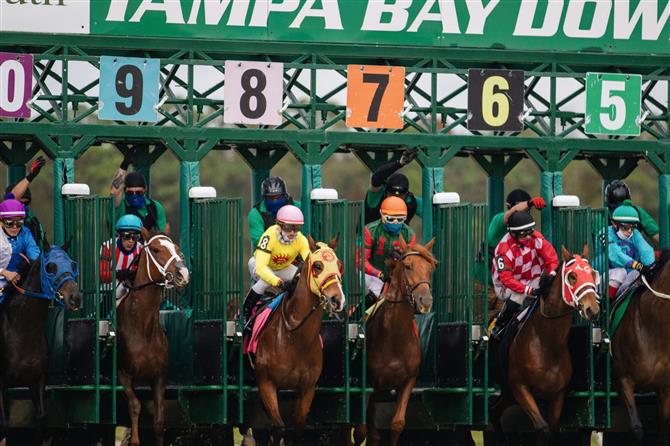 Kentucky Derby odds are combed over for weeks leading up to the Run for the Roses, and with somewhere between $150 million and $200 million being wagered on the event it's extremely important that the results are accurate. In this regard, the sport has come a long way since races were graded by a single judge standing at the finish line. 
While analytics and data information are playing a bigger rolet than ever in the training and lead-up to the Kentucky Derby, tech is also very prevalent at the track itself. This goes for not only making sure the results are correct, but also bettors using tech to help predict the winners whether they be a longshot or a large favorite – let's examine how:
Improving Accuracy and Protecting Horses
There are four equally important components that play their part in a winning race – the horse, the jockey, the trainer, and the track. In the case of the Kentucky Derby, Churchill Downs is more famous than the participants so it's very important that the track holds up its end of the bargain.
TurfTrax is a company that manufactures a number of products that help in analyzing track conditions. The firmness or softness of a track is a very important analytic, both to help predict how certain horses will fare in the conditions but also as a notification to trainers on how to run their horses in practice laps. Once again the goal is to maximum performance while also not causing an injury and the TurfTrax GoingStick program does just that.
WeatherTrax is used to get data on wind speed as well as barometric pressure and any other metric that would affect how a horse will run on a certain day. Programs like WeatherTrax can also be used to collect data about soil temperature and moisture absorption which also factors into how a track will run.
Artificial Intelligence
Like it or not artificial intelligence continues to be a big part of sports betting. We've seen it where computer simulators have played a game thousands of times to give the best idea of how the  contest will play out. Results have been mixed because there's still the human factor of injuries, bad officiating, or coaches having a complete meltdown in their play calling. 
Regardless, artificial intelligence is a part of horse racing now and it's already been proven. In 2016 AI was used to correctly predict the finishing order 1-4 of the Kentucky Derby, a $542 superfecta on a $1 bet. This is of course not an exact system, because the next year the company behind the correct picks only predicted two of the four finishers. 20-1 Lookin at Lee and 30-1 Battle at Midway placed and showed in that race making it very hard to predict.
The A.I. used in predicting the Kentucky Derby utilizes a method called swarm intelligence, where you take something like 20 expert handicappers and whittle down their most universal expected results. Once again there's still a human element here though, and we've seen upsets across all sports that none of these so-called experts ever predicted.
Betting Apps Themselves
Louisville has essentially become the Las Vegas of the horse racing industry. TwinSpires has moved their headquarters from California to Kentucky and betting continues to be the driving force behind the popularity of the Kentucky Derby.
While you used to buy a very outdated racing form for $2 when going to the tracks, now bettors have tons of information at their fingertips and it's updated in real time. Odds changes are accurate down to the second and mobile betting creates just a more general experience when you go to the race. Long lines at the betting window are a thing of the past as now patrons can place wagers from the comfort of their seats via a smart phone.