ASUS announced a collaboration model with the animation Neon Genesis Evangelion for the video card ROG STRIX RTX 3090 O24G of the gaming brand ROG – Republic Of Gamers. Pre-order sales have started at some stores in Taiwan and United States, and the eCommerce portals are selling at $2200.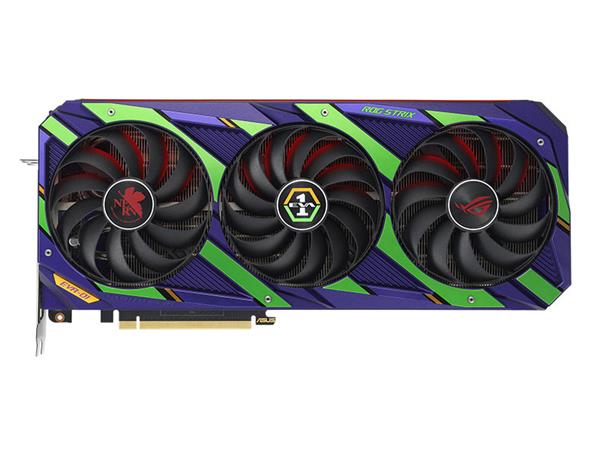 The cooler part of Asus ROG STRIX RTX 3090 O24G equipped with a triple fan and the back plate are arranged in the green and purple colors of the first EVA machine, and the side is treated with the waveform displayed when expressing synchronization rate in the work, video The entire card is colored with the coloring of the first EVA machine.
The main specifications of Asus ROG STRIX RTX 3090 O24G are boost clock 1,860MHz – 1,890MHz in OC mode, video memory GDDR6X 24GB, memory clock 19.5Gbps, bus width 384bit, auxiliary power supply 8pin x 3 etc. Since there is no particular description about the specifications of the collaboration model, it is considered to be equivalent to the base model.
There are 3 PCIe slots onboard, 2 of which support PCIe 5.0, and the first slot has an easy-to-remove button for the graphics card, you can easily unlock the graphics card by pressing the button. The three onboard M.2 ports are all covered with high-efficiency heat sinks, and two of them have a heat dissipation backplane, which efficiently cools the SSD and brings excellent transmission speed.
The pre-installed integrated I/O backplane has a wealth of USB ports, including 2 Thunderbolt 4 ports, 7 USB 3.2 Gen 2, etc., which can be connected to multiple devices at the same time. In addition, there is a front USB3.2 Gen 2×2 interface, which supports QC4+ 60W fast charging.