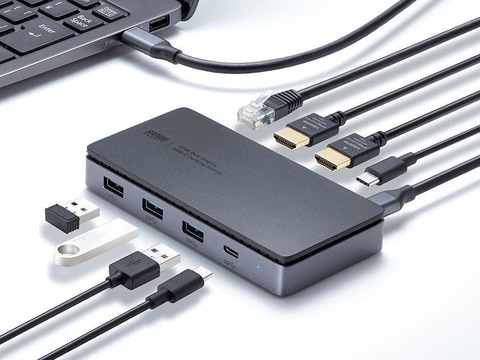 Sanwa Supply USB-CVDK15 is the only docking station you will ever need. All you need is a laptop, phone or tablet with USB C connection and yes, that includes latest iPhone with USB C port as well. The price is 177 USD.
USB-CVDK15 is a dock that can output dual video via two HDMIs. During dual video output, one side supports 4K 3,840 x 2,160 pixels output and the other supports full HD 1,920 x 1,080 pixels output.
Sanwa Supply USB-CVDK15 comes with a 100W USB Type-C compatible with USB PD, that would allow you to easily power your laptop. In addition, this docking station is equipped with USB 3.0 Type-C, USB 3.0 x 2, USB 2.0, and Gigabit Ethernet.
A USB Type-C cable with a cable length of approximately 1m is included in Sanwa Supply USB-CVDK15's package. The main body size is 125 x 62 x 19 mm, and the weight is approximately 112 grams.