Nvidia announced RTX 4070 Ti on January 4th 2023 and benchmark results of the new 4070Ti are already out now. The RTX 4070 Ti 3DMark results are now available that show 20-30% slower than the RTX 4080 and around 32% faster than the outgoing Nvidia 3070 Ti.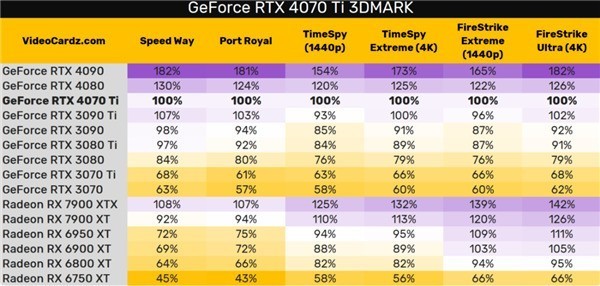 RTX 4070 Ti has 7680 CUDA cores, 2.6GHz acceleration frequency, 12GB GDDR6X memory, 192-bit bit width, and TDP 285W. The official price of Nvidia RTX 4070 Ti is expected to be 799 US dollars, but if the cryptocurrency mining again becomes popular, the it will sold at massive premium. 
If you own Nvidia 3070 Ti, should you upgrade? Well, if you can afford then definitely do it as 32% is a decent improvement. But, if you can get the RTX 4080 for almost the same price as the 4070 Ti, then go for RTX 4080 as it still the daddy providing around 30-percent better performance over the 4070Ti. 
MSRP of RTX 4080 is 1200 dollars and RTX 4070 Ti costs 800 dollars. If you have eyes set on RTX 4080, keep in mind default TDP of 4080 is 320W while consumption of RTX 4070 Ti is 285W.