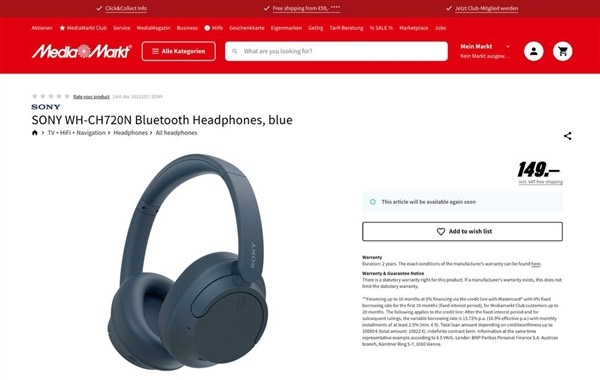 The retailer MediaMarkt has launched a head-mounted Bluetooth headset called WH-CH720N. It was previously reported that Sony will launch a new product of the WH-CH series of headphones, which will be upgraded in terms of hardware and it looks like Sony WH-CH720N is the one everyone was talking about.
Sony WH-CH720N has upgraded the transmission protocol from Bluetooth 5.0 of WH-CH710N to Bluetooth 5.2, which is more stable in connection. In addition, while maintaining a long battery life of 35 hours and active noise reduction, the weight of the new product is only 192 grams, which is 16-percent lighter than the previous generation.
The lighter weight, combined with the optimized headphone structure, can increase the comfort of the user. It is worth mentioning that, in addition to WH-CH720N, MediaMarkt also sneaked a headset called WH-CH520 Bluetooth headset. Like WH-CH720N, WH-CH520 also supports Bluetooth 5.2 transmission protocol, and adopts a new headphone structure design.
However, unlike the WH-CH720N, the WH-CH520 has a 50-hour very long battery life at the cost of an increase in weight of 15 grams compared to the previous generation. Listing says Sony WH-CH720N is priced at 149 Euros, and WH-CH520 is priced at 69 Euros.