Huawei AD80HW is a computer monitor with 23.8 inch display with 1080p full HD resolution. Obviously, this computer monitor is positioned in the mainstream market, but the design is very distinctive. First of all, it has a high appearance, a three-sided micro-frame design, a frame thickness of 5.72mm, and a screen-to-body ratio of up to 90%. In addition, the back of Huawei's display uses a spray paint process, and the texture is relatively high-end.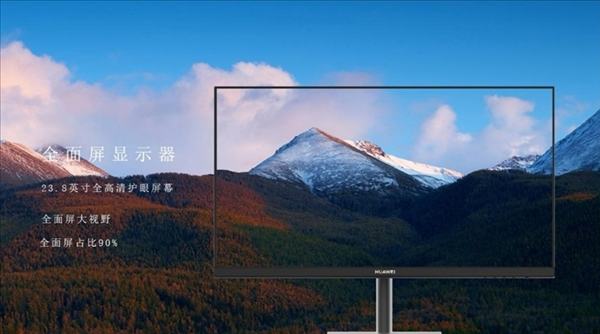 As for the screen, it uses an IPS panel. In addition to 1080p resolution, it also has 72% NTSC color gamut, 16.7 million color display, 178 viewing angles, and 1000:1 contrast ratio.
In addition, Huawei Display also has a main feature of eye protection, supporting TUV Rheinland's eye protection certification , effectively reducing blue light damage, and passing the national energy efficiency level 1 certification.
Overall, Huawei's AD80HW display has excellent looks and good texture, but the screen parameters are quite satisfactory. It seems that it is not the main e-sports market, and is suitable for general home and commercial markets.
The price and time to market are still unknown, but Huawei's monitors are definitely more than this one. Gaming monitors are an important market, and follow-up products are bound to be targeted at high-end games.