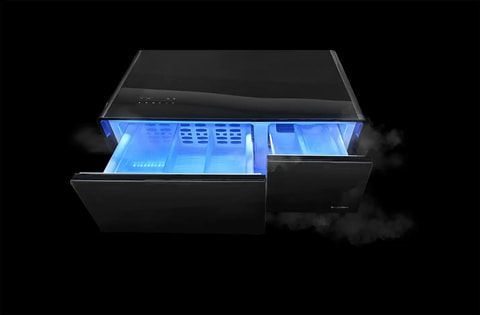 The name of this smart table is weird, but packs amazing features like USB charger, Bluetooth speaker and of course, as expected, a refrigerator. Called Loser Smart Table STB 90B, it is a smart desk that retails for ~$1100 USD.
This smart table is equipped with a 28L refrigerator. In other words, it can store about 1 shopping cart worth of items. The temperature range of the refrigerator part is between 33 to 12 degrees Celsius and -24 to -12 degrees Celsius for freezing.
Loser Smart Table STB 90B also has a built-in 20W Bluetooth speaker that allows you to play music from your smartphone with powerful sound. Furthermore, Loser Smart Table STB 90B features variety of USB ports – Type-A x 2, Type-C x 1 USB port, and a 1,000W compatible outlet, allowing you to connect a variety of devices.
The main body size of Loser Smart Table STB 90B measures 105.5 x 58.5 x 46.3 cm, and the weight is approximately 45 kg. The load capacity of the top plate is approximately 200kg. Three body colors are available for the Loser Smart Table STB 90B – black, white, and wood.